Sudheendra Walvekar,
Founder and MD
Founder and chief visionary, Tony is the driving force behind the company. He loves to keep his hands full by participating in the development of the software, marketing, and customer experience strategies.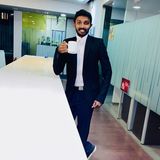 Sukesh Shivapuram,
Co Founder and CFO.
Sukesh, with his international experience, helps us easily understand the numbers and improves them. He is determined to drive success and delivers his professional acumen to bring the company to the next level.
Why Choose Us
Expertise: With years of experience and a team of skilled professionals, we have a deep understanding of ERP systems across various industries, enabling us to deliver tailored solutions.

Flexibility: We recognize that each business has unique requirements. Our services are flexible and scalable, allowing us to adapt to your evolving needs and support your growth.

Customer Satisfaction: Our commitment to customer satisfaction is unwavering. We prioritize communication, collaboration, and transparency throughout the entire engagement, ensuring your expectations are met or exceeded.

Continuous Improvement: We continuously strive for excellence. By embracing emerging technologies and industry advancements, we offer innovative solutions that drive operational efficiency and competitive advantage for your business.